Pentecost Island, devastated by Cyclone Harold in April, has been left a silent shadow of its former self. But its people endure
by Dan McGarry
Touching down on the island of Pentecost in Vanuatu, it takes hours to notice the silence. After a while it hits you: there's no birdsong, no insects buzzing and chittering. There is no wind in the trees.
You don't register the silence at first because your eyes are overwhelmed with the magnitude of the destruction. The eye of category 5 Cyclone Harold passed directly over the central and southern half of this remote and mountainous island on April 5.
The destruction was comprehensive and catastrophic.
Residents of Vanuatu are used to disaster. The Pacific nation is ranked by the UN as the country most at risk for natural hazards. Earthquakes, volcanoes, cyclones, we've seen them all.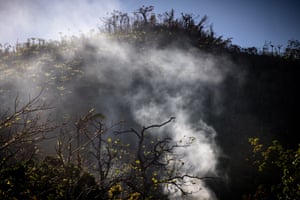 Smoke rises from a fire burning off some of the masses of debris left by the storm
But nobody has seen anything like this.
Both east and west coasts of the island were devastated.
Most homes were damaged or destroyed. Gardens were despoiled. About 12,000 people are living in makeshift conditions and there's no sign that's going to change soon.